Our Design Story
From the Designer – Di Hendy – Di 4 Interior Designs
Our aim has always been to ensure that all holiday-makers at La Maison Pacifique are encouraged, through their beautiful surrounds, to enjoy their break in a peaceful, luxury setting.

The brief for La Maison Pacifique from the owners was that the house needed to be a place where people can relax if they wish, but also have all the mod-cons at their fingertips. The owners are busy people, (as we all are!) and this house is their haven.

They wanted a designer look, but without the "sameness" or "too perfect" aspects, so there are elements of fun and whimsical matched in with the practical. Inspiration came from the ever-present sound of the waves across the boardwalk and the sights of the sand and Pacific Ocean, whilst adding in touches of the exotic.

As you walk in, there is a sense of calm and order which enables all guests to immediately relax and feel that their holiday has truly begun!

There are many "chillout" zones, allowing all guests to either congregate in small groups or to have their own space. And yes, there is still space for all 10 guests to gather around the expansive caesar stone table in the dining room or around the large recycled timber table on the outdoor entertaining deck. Added personal touches include recipe books, board games and lots of candlesticks. The vibe is definitely peaceful and this is no accident! – Di Hendy – Di 4 Interior Designs
Di Hendy Lifestyle brings together everything that Di is passionate about…
Gathering family and friends to experience and share precious moments together
Designing and creating beautiful spaces to enhance the day to day lives of people and their families and friends
Working with families to create beautiful holiday destinations which can be enjoyed by all
Creating beautiful holiday opportunities for families in inspirational locations
"DREAM BELIEVE CREATE SUCCEED"
Alluxia interview with Di Hendy (September 2013)…
From the Owners
Sally and Chris
It took us more than 3 years to find our beautiful beach house.  We started our search on the Sunshine Coast, which we love, but were put off by the traveling time from Brisbane – particularly during peak times and holiday weekends.

After hearing about a friend's fantastic holiday in Kingscliff, we changed our focus.  Here at Casuarina, we found peace, tranquility, a village atmosphere and the Pacific ocean at our fingertips – all within 90 minutes of our home in Brisbane – and that was on a bad traffic day!

We can still slip north to the bright lights of the Gold Coast should we wish to embrace them (ok, the shopping at Robina then – just 25 minutes away), or South to the bustling Byron Bay, but to be honest, we are more than happy just pottering around, walking along the boardwalk, riding our bikes, canoeing, fishing, setting mud crab pots and talking with our friendly neighbours.  La Maison Pacifique has become a real haven for us – and one which we are keen to share with our discerning guests.

So impressed were we that we decided to invest further in the area.  Our Bush Tucker Garden is the newest addition to La Maison Pacifique, designed and built by our local Gardener and all around great guy, Dave.  Dave has a special interest in local plants and produce and with a keen eye on sustainability has built our beautiful garden from scratch.  With a touch rugby field, orchard, tea garden, herbs, tropical garden and bush tucker area, our Bush Tucker Garden has already seen many guests enjoy its delights.

For the house – why did we choose Di Hendy as our designer?  Well, as soon as we met Di, we knew we had found a kindred spirit.  We loved the fact that Di's philosophy embraces "what we thought we wanted and what we didn't know wanted".  Di was given pretty much a free reign on all design aspects within La Maison Pacifique and which started with our fabric shopping for the plethora of soft furnishings throughout.  There is a fascinating mix of the exotic and the practical – ideally suited to a luxury beachfront holiday lifestyle.  We wanted to ensure that our offering to guests really encapsulated the fact that this is a home, not a "rental".  There are certainly no bunk beds on site!  We have made every effort for the little extras that you would not normally find in a rental holiday home – things like the inbuilt Miele coffee machine, blender, pizza oven and even a food processor.  It doesn't stop in the kitchen though with as you will find beautiful furnishings, rugs, designer artwork, imported stools and reading and cookbooks handy.  It is also why we include Austar/Foxtel, a wireless internet service and free local and interstate phone calls.  This is what you have at home, so why not have it on holiday (and all at no extra cost)…

We also wanted an all-inclusive cost, so with us you will find that there are no add-ons.  Linen, towels, bedmaking, $210 cleaning and credit card charges are all included in the tariff.  We hate surprises so we are upfront about the costs.

We also have some added services – champagne on arrival, flowers and grocery services.  This takes the hassle out of your arrival with a chance to ensure that no matter what time you arrive, we can have it all ready for you.

There are other added extras for your La Maison Pacifique experience too.  We have our own monthly newsletter which we send to all who enquire about our property, and regularly use our social media connections – Twitter, Facebook, Google+ and Linkedin.  We want our guests to be comfortable booking our beautiful home and to know that we are committed to their comfort during their stay.

Our blogs/newsletter articles include some great information from locals on their best things to do in the area.  This means that our website can be a great source of information for your stay, letting you "live like the locals" – always a great way to explore the best parts of the local area.

We (including our wonderful team) really do look forward to welcoming you to La Maison Pacifique – "The Peaceful House".

We are delighted with the results of our labours and hope you will be too.
Our New La Maison Pacifique Candles
]
Working with local candle maker, Jo MacDermid of Jaabay Candles, La Maison Pacifique launched its own candle in April 2013.
Our philosophy at La Maison Pacifique is to offer the best luxury beachfront holiday home to discerning guests who enjoy designer holiday home touches, appreciate the finer things in life and who are happy to take the time to indulge in activities they enjoy whilst igniting their passion for love and life.
Similarly, Jaabay Candles are hand made with 100% love and passion. Jaabay have created a beautiful triple scented soy candle specifically for all La Maison Pacifique bookings which will remind them of their stay.
We both believe that a smell can take us somewhere, remind us of something or someone and ignite our senses and memories in more ways than we know.  Therefore this partnership is heaven scent!
A gift for all bookings staying at La Maison Pacifique, this candle fulfills our key philosophies of:
a little bit of luxury
a local product which is designed, sourced and produced locally
sets the tone for a relaxing luxury beachfront holiday
is a gift for all our treasured guests
a designer holiday home design
La Maison Pacifique's scent "Montego Bay" is inspired by summer beachfront holidays, focusing on recognisable scents of fresh summer days.  A tropical delight of lemon, lime and mandarin supported with a base of coconut and just a touch of vanilla this scent is subtle and relaxing, invoking beauty and calm.  It is perfect for our discerning guests.
Jo MacDermid says
"Jaabay Candles are all home made by hand and are triple scented. They are 100% soy with cotton wicks, which means a long strong healthy burn. 

I love to create a luxurious atmosphere and a memorable one at that.  This is the reason I started creating my own candles, with a long lasting scent – from your first burn to the bottom of the jar. They have a lovely look in your home and are a beautiful gift to give that special someone".  
We at La Maison Pacifique say:
"It is a real pleasure to work with someone like Jo, a local who appreciates and shares our commitment to our guests.  She understood our brief and built a beautiful scent which embodies a luxury beachfront holiday experience". 
Every La Maison Pacifique booking receives a candle on arrival. Additional candles can be purchased on request.
Remember that you are always welcome to consider staying with us at La Maison Pacifique – right on the beachfront, half way between the Gold Coast and Byron Bay.
La Maison Pacifique Featured in Ocean Road Magazine – Autumn 2012
]
Read the feature article in the Great Ocean Road Magazine Autumn 2012 here
La Maison Pacifique Featured in Brisbane News – 5-11 November, 2014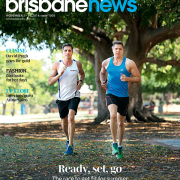 Read the feature article in the Brisbane News Magazine 5-11 November, 2014